To buy my Winter Holiday Album through
Click the CD cover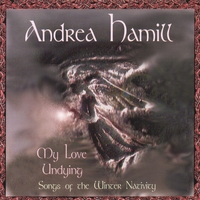 The recording features age-old carols from England, France, Spain and the Ukraine... [and] several modern Christmas songs, but a strong Celtic folk influence permeates every note Hamill breathes."
-- The Carlisle Evening Sentinel
"Andrea Hamill's album, My Love Undying, Songs of the Winter Nativity, is a chance to hear Joan Baez's sterling soprano crossed with Loreena McKennitt's eclectic celtic sound. There's a a cold mug of ale thumping on a medieval wood-plankered table and an ancient catholic abbey in it all."
Very special thanks to everyone who helped make this possible: Fellow producer Louis Lynch. Musicians: Louis Lynch (Clavinova/ piano/ vocals), Brian Pearson (guitar/ vocals), Dennis Repino (classical guitar), Suzanne Rabin (vocals), David Hunter Saussy (saxophone), David Kylen (synthesizer), Andrew Pierozak III (vocals) Also to Nimbit.com for opening up a whole new world online for me. My parents and my children, James and Melody for encouraging me to keep singing. Web Designer and love of my life Bryan Molloy.